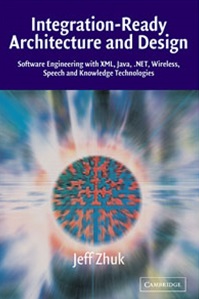 Background:
The author developed, patented, and promoted new methods to simplify IT while providing unprecedented power of knowledge understood by people and machines.
Cambridge University Press published his first book sharing initial ideas on Integrated Software and Knowledge Engineering.
From Book Reviews:
"This is the new road map for a new generation of students and specialists dedicated to the field of IT and information systems"
- Dr. V. Genin, International Academy of Higher Education, the UN
"An impressive attempt to re-define software and knowledge engineering for the post-dotcom era."
– V. Kaptelinin, Ph. D., Ume University, Sweden
"The book is a brilliant synergy of theory and experience."
– A. Nozik, General Director, SZMA International
From the Editor:
We are pleased to present this unusual book to our readers from business, IT management, architecture, and development circles.
IT of the future: Big Data and Cognitive Computing with Semantic Cloud Architecture
promises to save more than 50% of the current IT budget for big companies, while unleashing the power of knowledge.
The book starts with the fundamentals and provides the conceptual ground for the audience, then continues with the practical transitioning steps, including the architecture and code samples. The readers will be pleasantly surprised by "The Message from 2040", a science-fiction story built-in the book. This projection of the nearest future shows unexpected turns of evolving economy and society with their conflicts between competitive and collaborative forces. The book ends with "the key to the future", providing access to helpful tools and enabling learning and doing business with new revolutionary approaches.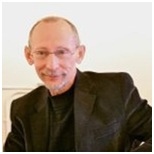 About the author
: Jeff (Yefim) Zhuk worked for Boeing, Intelligent Software Solutions, and Sallie Mae; consulted government agencies and corporations in SOA and knowledge engineering; shared his expertise at Java One, Semantic Technologies, Oracle and Boeing Conferences. In the publications and multiple patents he described a new field of
Integrated Software and Knowledge Engineering
.
Through his work and in this new book he promoted the ideas and practical steps towards semantic enterprise with greatly simplified and efficient IT.
Hobby
:
Mountaineering
Introduction: Fixing Education and Corporation
A problem: education inequity
Job market in the US is changing much faster than in the most countries. Simpler jobs disappear while new and exciting opportunities appear on the horizon. Unfortunately, it is much easier to lose an existing job that to jump on a new fast moving wagon. The jumpers, who can catch up with the changes, are our educational elite.
There are many reasons for education inequity. Here is just one story.
When I was training a small team of DoD software architects and developers, one of the men stood out the most to me because he was always able to expand on any subject and had great questions. However, when he told me his story, I was surprised to learn that his elementary, middle and high schools considered him retarded, a "lost case". Just before college, he developed his own way of learning and later became a successful student in college and then a team-lead at work.
How many "lost cases" do we have in schools, colleges or in the workplace? How many students have trouble following along with the mainstream methods of education and vocational training? What is the percentage of students with learning differences or detrimental gaps in their education?
I was a corporate trainer, university and college instructor, taught in public and private schools, consulted and mentored business and technical teams. Usually less than half of the group can sync with the basic flow of materials and can understand a bigger picture of the developmental process. Going above and beyond, the best mentors can recognize those who are ready for advanced material and those that need more time or special attention. The most effective teachers develop ways to approach individual learning differences, fill in the gaps in their knowledge, keep the students engaged, and minimize the "lost cases".
We can enormously increase these efforts by utilizing the latest technology. By focusing on ending education inequity we will also solve the related program of the growing economic inequity in our society. "We" does not necessary mean the government or only the government. Private companies would also see a great payoff from an investment in resolving education inequity by enlarging the pool of skilled workers available. Furthermore, publicity of a company's efforts in education would also serve to build up the company's public image. And from a moral point of view, what could be a better payoff than fixing society's problems?
A solution:
The best teachers in this country have already developed individual approaches, while selecting the style and materials based on individual learning differences. This is especially important for early childhood education. Conversational approach in education is crucial to finding individual differences and consistently engaging a student.
We do not have enough teachers, especially good teachers to converse one-o-one with the students. But today, we can computerize their methods and greatly expand the scale of the operation. The solution is a combination of conversational approach with semantic technologies.
The system will have access to a big variety of educational materials and will use a conversational approach to recognize the learning differences and optimize the ways of learning for each individual. The system must be smart enough to measure the level of engagement while trying different styles and materials. The "smart" part will come with Conversational Semantic Decision Support. Later in the book I write in details about this method and a system. Here is a brief definition (read more in the book).
The Conversational Semantic Decision Support system includes a set of pre-scripted scenarios describing decision trees, a set of pre-scripted questions leading to a specific branch in a specific decision tree and a semantic engine with the models of related knowledge domains. The engine uses the knowledge domains to understand the meaning of the answers to the questions and to map the answers to one of the existing decision trees and branches. It is expected that the answers are not in the expected terms and will require clarification questions, produced by the system. In the case of multiple failures to understand and properly map human responses, the system can access a subject matter expert for help. Each failure case will lead to system expansion with more branches and scenarios providing a learning path.
Let us come back to our educational agenda. The set of materials in each knowledge domain will be a mix of well-illustrated media-based definitions and examples as well as pre-defined questions and tasks. The most important task will be creating more questions. This individual component of education will complement the existing group-based approach. This individualized system will work under the umbrella of a collaborative system. The answers and new questions will be visible (without the student names) for evaluation to all students and will be ranked. Highest rank questions and answers will expand teaching materials for the proper knowledge domains. The value of questions is higher in student evaluations as they better reflect student's engagement and also serve as engagement tools for other students.
I described the system that I've built with my students while teaching the Java Programming course at Community College of Denver. Our system had a limited set of materials and did not have an important part, Conversational Semantic Decision Support. Collecting best teaching materials on multiple subjects and adding Conversational Semantic Decision Support, both are not easy tasks, but both are doable. The teachers will still control the process but the power of the conversational knowledge-based system will greatly scale up their efforts.
A problem: "tribal knowledge"
Product development often starts with a simple idea. In most cases it does not go too far because it requires too much support from many areas of knowledge. It is like a camp fire that is hard to start in a windy day, but very easy to stop. Someone has to be lucky enough to be in a position to discover multiple "know how" that would provide the necessary layers of translation into a product.

Corporate knowledge or "know how" can be split into three categories: structured data – in relational databases, unstructured data – text documents in folders and web sites, and the biggest portion of information that is used daily in business routine and has never been captured. It is so-called "Tribal Knowledge". My conservative estimate of the ratio between structured, unstructured and "tribal" knowledge is 10%, 20% and 70%. Gartner Group estimated that knowledge workers (almost everyone) spend 60 percent of their time with the search, phone calls and meetings, while looking for information to do their work. We would significantly improve business productivity across the board if we could capture this information. By retiring "baby boomers" or replacing "experienced and expensive" with "young and cheap" corporations actively lose huge portions of tribal knowledge. Sooner or later the business will feel the pain, especially the companies dealing with the long life products surrounded by the monstrous flow of related rules and regulations.

A solution:

What would happen if we can establish the process of capturing "tacit" information and make it cheap and available? This is a long shot, but we can start today.

The conversational approach to knowledge acquisition combines the power of Big Data and Semantic Technologies with the human intuition. This combination is optimal for retrieving the "tribal knowledge", including the important "know how" necessary to move step by step from the conceptual idea to its implementation.

We will establish a new type of the development and manufacturing process and will make it available to a non-technical person who has initial ideas have no knowledge about the "know how". What we call today design and development will be transitioned into a direct conversation between a person and a computer program, which can be called "a modeling and manufacturing factory". Initiated by a person and supported by the conversational semantic system with collected "know how", these conversations will help to clarify the initial ideas, will model and manufacture the desired implementation.

This is the optimal combination of human's ability to suggest new approaches with computerized translation of these ideas into properly formatted executable instructions for modeling and manufacturing systems. The conversational system will search all available knowledge domains and in the difficult cases come back to a SME with clarifying questions. Eventually, they (SME and the system) will be able to successfully model and implement the idea into a product and manufacture with 3D-printers.

A new wave of business developments may overpass the wave initiated by the Internet.


References:
1.
Fixing Education
- Directly connecting students and job market
2.
Integration-Ready Architecture and Design
- Software Engineering with XML, Java, .NET, Wireless, Speech, and Knowledge Technologies, by Cambridge University Press
3.
Software Semantic Evolution
- SOA and Microservices and the Next Step in Semantic Integration
4.
Internet Technology University
5.
The message from 2040
Patents:
Knowledge-Driven Architecture
| US Patent | Yefim Zhuk | Driving applications with business scenarios
- Traditional control systems are first designed by subject matter experts that create business rules and scenarios. Then, the systems are developed by system developers, people who translate business rules and scenarios into technology. The invention allows business rules and scenarios to be directly included in a control system and directly drive the controlling services, providing for knowledge-driven architecture control systems. These systems can easily adjust its controlling behavior, improving flexibility to a variety of control systems including but not limited to video and audio systems, distributed networks and their combinations for medical, military and transportation applications.
Adaptive Mobile Robot System
| US Patent | Yefim Zhuk | Integrating software and knowledge engineering with robotic technologies
- The invention integrates software and knowledge engineering with robotics technology to improve robot-to-robot and robot-to-human conversational interface and provide on-the-fly translations of situational requirements into adaptive behavior models and further down to service scenarios for a collaborative robot teams.
Collaborative security and decision making in service-oriented environment |
US
and
15 European countries
, Patent | Yefim Zhuk/Boeing | Turning a beautiful idea of collaborative decision into a system
- The invention provides collaborative security and collaborative decision making in a service-oriented environment.
Rules Collector System and Method
| US Patent | Yefim Zhuk/Boeing | Formalizing expert knowledge into rules, which can be used for solving the next problem in the expert-computer brainstorming
- The system and method enables a process of capturing an expertise of an individual in a formalized manner, and which may update rules and knowledge databases with information based on the interaction with the individual.
Distributed Active Knowledge and Process
| US Patent | Yefim Zhuk/Boeing | Collaborative data and services
- A distributed active knowledge and process base incorporates multiple Distributed Object Technology Systems (DOTS) connected over a network, the Internet, or wireless media to allow multiple types of data, processes, and services (system elements) to be created and modified within the same collaborative framework, provides and updates periodically knowledge about available system elements and their values, allows separate systems to negotiate multiple forms of collaboration, and contains sufficiently flexible levels of data security in order to foster online collaboration.

IT of the future
|
Robots in Teams
|
Consultant - Expert
|
Fixing Education
|
Tutorials, Patents, and Publications
|
2040
|
ITUniversity.us
ServiceConnect
|
i coach online
|
Colorado Department of Employment and Labor: Best Training Providers
SOA, Microservices, MuleSoft and the Next Step
|
Capture Knowledge
|
IT Serve US